Vietnam and Cambodia Uncovered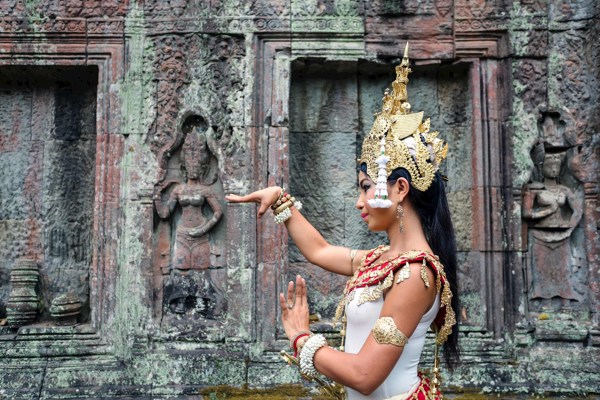 Vietnam And Cambodia Uncovered
Journey from the beauty of Halong Bay to a spine-tingling encounter with the abandoned capital of Angkor Thom, left to ruin in the depths of the dense Cambodian jungle and on to Phnom Penh - a city that has emerged from the past to recapture its reputation as the 'Pearl of Asia'.
Dining Summary
1 Welcome Reception (WR)
17 Breakfast (B)
4 Lunch (L)
1 Dinner (D)
2 Be My Guest (BMG)
2 Farewell Dinner (FD)
Be My Guest
Hue: Enjoy lunch at one of the great remaining garden houses of Hue where you will gain insight into the lives of a local family and admire their fascinating collection of artifacts and mementos from the days of the former Royal Empire.
Dive Into Culture
Hanoi: Visit Ho Chi Minh's house in Hanoi.
Hoi An: Visit the colourful market of Hoi An.
Hoi An: Join a Lantern Making Workshop or a Fishing Life Tour to learn about the lives of the local fishermen and have a go at casting your own fishing net.
Danang: Visit the Cham Museum in Danang.
Ho Chi Minh City: Visit the home of the former American Ambassador to South Vietnam in the 1960s.
Siem Reap: At Peak Sneng Village observe the locals weaving hats from palm leaves or folding Lotus flowers into delicate works of art.
Phnom Penh: Join a cyclo tour around the streets of the Phnom Penh.
Iconic Experience
Hanoi: On a sightseeing tour of the city of Hanoi, see the imposing Ho Chi Minh Mausoleum and the Temple of Literature.
Hanoi: Travel past the colourful shopfronts and street food vendors of Hanoi's Old Quarter on a cyclo tour.
Ha Long Bay: Journey across the World Heritage Ha Long Bay on a small boat. Visit a cultured pearl fishery where the pearl maker will explain the process from culturing, harvesting, and sculpting these precious gemstones and stop at the beautiful Ti Top beach.
Ha Long Bay: Start your day on beautiful Ha Long Bay with a yoga class lead by a Local Specialist.
Hoi An: Learn about the daily work routines of local farmers at Thanh Dong Organic Village.
: Travel by boat to the Red Bridge Cooking School to learn about the traditional ways of preparing and cooking Vietnamese food.
Hue: See Hue by land and water today. Enjoy a cyclo tour past the Imperial Citadel and Thien Mu Pagoda before boarding a local dragon boat.
Ho Chi Minh City: Enjoy the sights of the French colonial-era buildings and even a former CIA residential block as you partake in a walking tour of Ho Chi Minh City.
My Tho: Cruise along the canals of My Tho in a small sampan boat during your visit to this market town.
My Tho: After a stroll through the streets of My Tho, meet a local family in their home. Hear stories from your Local Specialist about surviving the Khmer Rouge and learn about the family's handicraft, making paper.
Ho Chi Minh City: Gain insight into a difficult period of Vietnam's history as you join a Vet Cong veteran for a visit to the Cu Chi tunnels, developped to protect Viet Cong guerillas.
Angkor Wat: Join your Local Specialist and immerse yourself in the stories of the celestial nymphs and mystical serpents.
Angkor Wat: Discover the Banteay Srei Temple, also known as the "Citadel of Women" where you can admire delicate 10th-century carvings.
Wat Damnak: Experience a private blessing with a Monk where a sacred thread is tied around your wrists to protect you against evil spirits.
Angkor Thom: Enjoy a visit to Angor Thom and admire the iconic sites of the Terrace of Elephants, the Royal Enclosure and the Temple of Bayon.
Phnom Penh: Join your Local Specialist for a sightseeing tour of Phnom Penh's famous landmarks, including a visit to the National Museum.
Choeung Ek Genocidal Center: Visit the Choeung Ek Genocidal Center, a memorial dedicated to the victims who died under the reign of the Khmer Rouge.
MAKE TRAVEL MATTER®
Ho Chi Minh City: Have lunch at Mai Sen restaurant, which supports those affected by poverty to provide opportunities and a vocational education in the hospitality sector.
Siem Reap: Visit Artisans d'Angkor, where our visit contributes to creating job opportunities for disadvantaged rural youths and at Peak Sneng village, meeting local villagers and discovering some traditional Cambodian crafts.
Must-see Highlights
: Explore Hanoi, Hoi An, Hue, Ho Chi Minh City and Phnom Penh
: Visit Ho Chi Minh Mausoleum, the Temple of Literature in Hanoi, the Imperial Citadel in Hue, the War Remnants Museum in Ho Chi Minh City, the Cu Chi Tunnels, Siem Reap Old Town, the temples of Angkor Wat, Angkor Thom, Wat Damnak and Ta Prohm, Wat Phnom, the Royal Palace and the Cheung Ek Killing Fields in Phnom Penh
: View Ho Chi Minh's House in Hanoi and the Opera House, Notre Dame Cathedral, Central Post Office in Ho Chi Minh City
Trafalgar Difference
Halong Bay: Stay on a traditional style Vietnamese Junk boat for an overnight cruise in Halong Bay.
Whats Included
: An expert Travel Director and professional Driver
: Cherry-picked hotels, all tried and trusted
: All porterage and restaurant gratuities
: All hotel tips, charges and local taxes
: Breakfast daily and up to half of your evening meals
: Must-see sightseeing and surprise extras
: Audio headsets for flexible sightseeing
: Luxury air-conditioned coach with Wi-Fi in most countries or alternative transportation (such as rail journeys)
: Optional Experiences and free time
: Flights from Hanoi to Danang, Hue to Ho Chi Minh City, Ho Chi Minh City to Siem Reap, and Siem Reap to Phnom Penh.
Whats Included
An expert Travel Directo...
Tour Differently isn't just what we promise, it's what we deliver.
Dream holidays without the stress of the 'what ifs', is what we do. We design our tours so you can experience the world differently. You'll get the personal service, attention to detail and ease you're looking for, while enjoying the unmissable experiences you've always dreamed of. Discover why Trafalgar tours have been trusted by 5 million guests and are proud to deliver the very best tours that you'll cherish for ye
...