Wonders of Patagonia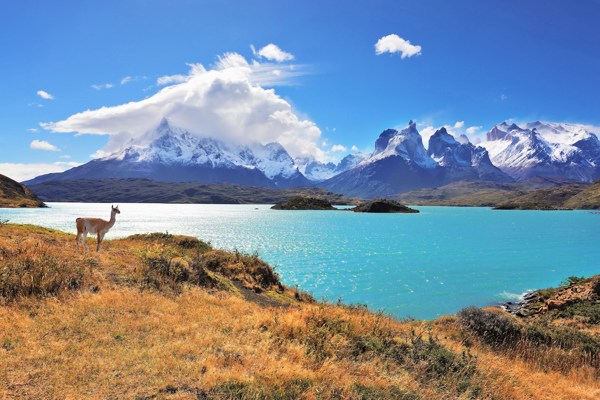 Wonders Of Patagonia
Travel to the ends of the earth, from the flamboyant capital of Buenos Aires to the land of giants, roaming solitary steppes, the rugged Andes, and glacial lakes. Insider experiences including dinner with a Buenos Aires family and Patagonian cowboy cultural visit in Torres Del Paine enrich your Patagonia tour.
Dining Summary
1 Welcome Reception (WR)
10 Breakfast (B)
1 Be My Guest (BMG)
4 Dinner (D)
4 Lunch (L)
1 Farewell Dinner (FD)
Be My Guest
Buenos Aires: Dine at the home of a local family in the bohemian neighbourhood of Palermo Soho with its European-style homes and hip attitude.
Dive Into Culture
Ushuaia: Tour Ushuaia including a visit to the Museo Maritimo y Del Presidio, where you'll explore the history of the Prison at the End of the World and learn about the famous prisoners who were incarcerated there.
Torres del Paine National Park: Learn the Patagonian cowboy way with the baqueanos, who lead the Hotel Las Torres horseback rides and look after the horses and stables of Estancia Cerro Paine. Learn from these local vaqueros - the descendants of horsemen who came to work ranches in this remote region more than a century ago - about their special clothing, saddles and other horse tack and get a chance to share a mate (an herbal tea made from yerba mate leaves). Try a typical breakfast made of "sopaipillas" (type of bread) with "pebre" (Chilean condiment) while chatting about the Patagonian culture. See how to properly saddle a horse, nail a horseshoe and even how to ride. You can even join the crew and go looking for the "tropilla" (horse herd).
Iconic Experience
Buenos Aires: Embark on a Buenos Aires City Tour with a Local Specialist. Walk through the wide boulevards of this beautiful capital admiring the spirit of a city whose European and Latin American influences can be seen around every turn. See the pink palace, the seat of the Argentine national government and president's office whose balcony Juan and "Evita" Perón addressed the people in the 1940s and 1950s. Visit the cathedral and wander through the lively and colourful La Boca neighbourhood lined with restaurants, street artists and local art around every corner.
Tierra del Fuego National Park: Join a Local Specialist to delve deep into Tierra Del Fuego National park's natural splendour. Admire its beautiful waterfalls, forests and snow-capped mountains in which the wildlife of this area find sanctuary. Keep a keen eye out for red foxes, condors, eagles and beavers.
Parque Nacional Los Glaciares: Join a Local Specialist for a deep exploration of the striking UNESCO-listed Los Glaciares National Park. Within Argentina's largest and most famous national park, you'll come face-to-face with its arctic blue and white glaciers that are fed by the massive South Patagonian Ice Field, milky coloured glacial lakes and towering snowcapped peaks. Be amazed at this landscape of 356 glaciers starting at 4,900 feet (1,500 m) above sea level that reach into icy blue lakes. Discover the magnificent Perito Moreno Glacier, which towers above the icy waters of Lake Argentino, accessible by a short hike.
Torres del Paine National Park: Admire the cerulean blue waters of the Blue Lagoon. The lake's high salt content concentrated by evaporation leaves a soft white layer of calcium carbonate stromatolites rock formations on the riverbank in contrast to the blue waters. It's a stunning, rare sight made even more striking should you spot a colony of flamingos that make their home there in the summer. Laguna Amarga is also home to one of largest concentrations of pumas in Chilean Patagonia as well as Guanaco, Hare, Haired-Armadillo, Hong-Nosed Skunk, Grey Fox and over 40 types of birds, including the Andean Condor and Lesser Rhea.
Torres del Paine National Park: Enjoy an in-depth exploration of Torres Del Paine, venturing deep into the heart of the park with a Local Specialist. Embark on a short hike to see natural landmarks up close and view stunning landscapes from scenic outlooks especially chosen to showcase the surrounding beauty of the area.
Mirador Serrano Glacier: Travel by boat up the Rio Serrano, passing the Southern icefield (campo de Hielo sur) toward the icy turquoise sheets of the Serrano Glacier. With a Local Specialist, explore the impressive glacier with a hike through unspoiled, cool rainforest landscapes to Seno Ultima Esperanza (Fjord of the Last Hope) where you will see the rest of the Southern Patagonian Icefield. Mostly untouched by people, the unspoiled nature is home to colonies of cormorants, sea lions and condors.
Must-see Highlights
: Explore Buenos Aires and Ushuaia with a Local Specialist
: Visit Tierra del Fuego National Park, Los Glaciares National Park, Torres del Paine National Park and Bernardo O'Higgins National Park
: View the Balmaceda Glacier and Serrano Glacier
: Scenic Cruise upon a boat ride up the Rio Serrano toward the Serrano Glacier
: Scenic Drive from El Calafate to Torres del Paine National Park and from Puerto Natales to Punta Arenas
Trafalgar Difference
Puerto Natales: Enjoy modern accommodation in perfect harmony with the natural environment of Puerto Natales with this Stays With Stories.
Whats Included
: An expert Travel Director and professional Driver
: Cherry-picked hotels, all tried and trusted
: All porterage and restaurant gratuities
: All hotel tips, charges and local taxes
: Breakfast daily and up to half of your evening meals
: Must-see sightseeing and surprise extras
: Audio headsets for flexible sightseeing
: Luxury air-conditioned coach with Wi-Fi in most countries or alternative transportation (such as rail journeys)...
Tour Differently isn't just what we promise, it's what we deliver.
Dream holidays without the stress of the 'what ifs', is what we do. We design our tours so you can experience the world differently. You'll get the personal service, attention to detail and ease you're looking for, while enjoying the unmissable experiences you've always dreamed of. Discover why Trafalgar tours have been trusted by 5 million guests and are proud to deliver the very best tours that you'll cherish for ye
...